Holy crap, not ready, etc etc etc, yawn.
Look at this big boy: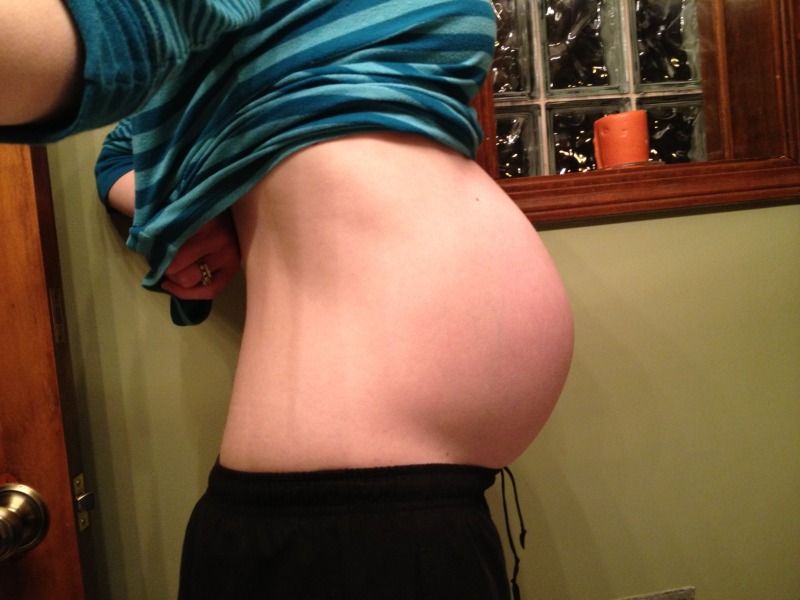 Compared to his oldest sister: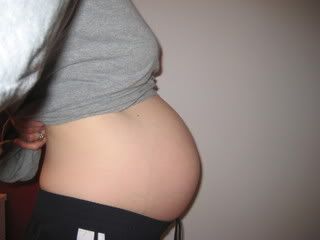 and his petite middle sis: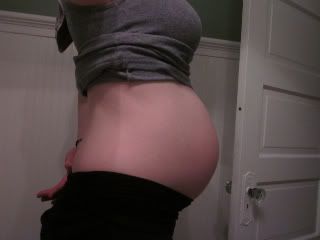 I actually think they're finally pretty much all comparable. Maybe because of the HORRIBLE AWFUL PLAGUE that hit our house this week? Oh my GOD, you guys. So horrible. The girls are back to 100%, while I am in that post-sickness daze, worsened by serious dehydration (you know how you're always insanely thirsty when you're pregnant? And then on top of that, you add post-puking dehydration and oh my god I'm a walking raisin), but at least the room has stopped spinning and I sat and played with the girls during tubbies instead of lying on the cool, sweet tile floor of the bathroom and praying for deliverance.
We spent the whole first half of the week sitting on the couch and watching tv, which was a necessary evil, because seriously, would YOU try to take this poor child in the basement to make puzzles?
And to add insult to injury, it was her week to be the star student at school, and she missed half of it:( It would have been great if she didn't notice, but we spent the whole night before, filling out her Star Student questionnaire. When she was lying pathetically on the couch, she said, "I want to go to be the star student today but I keep frowing up." Poor baby:( I was actually sort of hoping she'd be too sick to go back to school today so she could get a full week some other time, but she was really, really feeling quite healthy today, whereas I was not, so OFF TO SCHOOL WITH HER. And she had a ton of fun and didn't really seem to notice that she missed out on a day of being the star student, so it's all good. After school, we made up for lost time by playing outside and making arts and crafts and playing in the basement and having as much fun as humanly possible.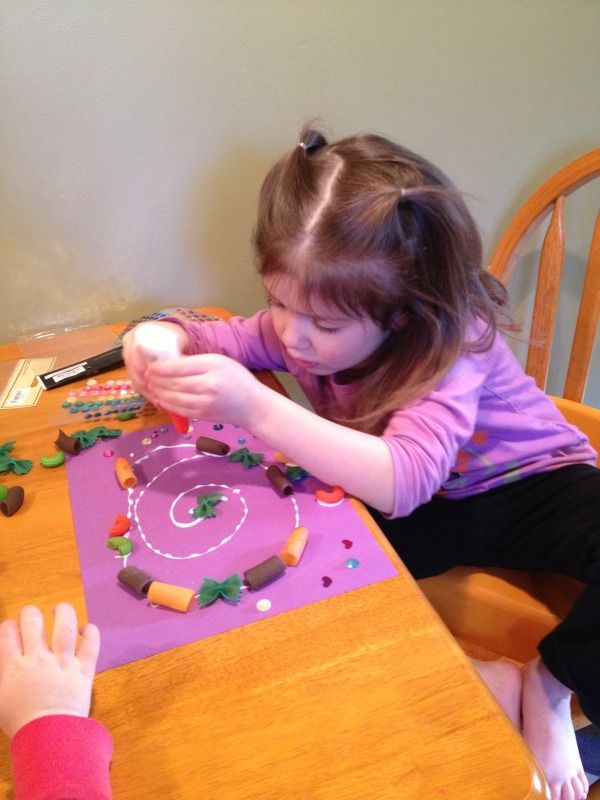 I'm really trying to enjoy all of these days even more than usual, because in four short weeks, it won't be as easy as all this. I keep thinking of the days after Katie was born, when I wanted to get on the floor and play with Gracie, or snuggle with her in my lap, and how hard it was because Katie had her own ideas about how things were going to be, and it was so hard. And I also try to remember that it was a lot harder for me than it was for Gracie, and how we found a new way to do things, one that involved Katie, and how much they love playing together and how much BETTER everything is with two of them, and I know all of that is true- they will love their baby brother and he will bring so much fun into their lives, but right now I think I'm in a melancholy phase. Because, well. It's me we're talking about.